Description - Acknowledgements - Disclaimer
DESCRIPTION
The Arabesques series of ten LPs of 1979, and the Recitalbum re-issue in LP format of 1984, were the monumental project of Dr. Jean-Claude Chabrier, an esteemed Doctor of Medicine, and an emminent musicologist at the Institut National Des Langues Et Civilisations Orientales of the Sorbonne, Paris. The series presented solo performances of 'ud, nay, qanun, santur, and buzuq, all by the finest musicians, and according to the highest technical standards using the best equipment available in the 1970s, at locations in several countries.
ACKNOWLEDGEMENTS
Musicians, ethnomusicologists, and connoisseurs are indebted to Dr. Chabrier for accomplishing such a huge task with such excellence, and for his diligent and meticulous notes about the music. Likewise, we are indebted to Decca House for the unique recording of Salman Shukur. These are made available here to inspire afficionados and artists of the 'ud, and to elevate the standard of musicianship for this instrument. This page would not have been possible if it were not for the help of Mr. Daniel O'Donnell. His kindness and effort to transfer his LPs to cassette, re-typing the Liner Notes for each LP, and sending them to me to make available for all visitors of Mike's Oud Website is much appreciated. Many thanks to Mr. David Parfitt for the biographical information on Jamil Bashir and for the images of Jamil Bashir and Salman Shukur. David also provided me with the 12 track titles for the Jamil Bashir taqsims through his contact with Mr. Asim al-Chalabi. Finally, thank you to Mr. Mavrothis Kontanis for providing us with the Jamil Bashir taqsims.
DISCLAIMER
These are copyrighted and protected recordings. All rights are reserved by Dr. Chabrier and by the labels and artists who participated. This rare material is presented here for educational purposes only. Duplication for commercial purposes is strictly prohibited by law. Thank you.
Jamil Bashir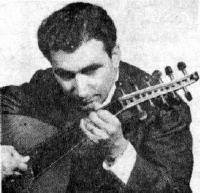 Jamil Bashir was born in Mosul, Iraq in 1921 and is the brother of Munir Bashir. His father, who was a singer, oud player and oud maker, started to teach him the oud when he was around six years old. When the Iraqi Music Institute opened in 1936, Jamil enrolled to learn oud with Sherif Muheddin Haydar and violin with Sando Alio. He finished his oud study in 1943 and his violin study in 1946, graduating with honours degrees in both instruments, and then worked at the Institute as an oud and violin teacher. At the same time he became the head of the Baghdad Radio Orchestra and then the Baghdad Radio Music Department. He also wrote a two-volume oud method. Jamil Bashir was also a good singer, but he did not continue singing as he preferred the oud. He died in London on 24th September 1977.
Mounir Bashir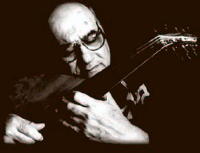 Munir Bachir was born in 1930 in Mosul, Iraq to a Syrian-Iraqi family that had been involved in music for many generations. His father, 'Abd al-Aziz Bachir, was a reknowned and cultivated oud musician and vocalist. Munir was exposed to and absorbed music from the Syrian, Byzantine, Kurdish, Persian, Turcic, and Abbasid traditions. At the young age of five years, Munir took up cello, also the oud, and eventually entered the Institute of Music of Baghdad, which was founded by the grand theoretician of Oriental music in the 20th century, Sharif Muhyi ad-Din Haydar Targan (1892-1967, and the Institute was open from 1934 to 1948). He soon obtained his diploma, and became preoccupied with safeguarding the Iraqi musical tradition. He carried out various important functions for radio, and became a professor himself at the Institut des Beaux-Arts of Baghdad. In 1953, he traveled to Beirut and accompanied the famous singer Fayrouz with her ensemble, and in Istanbul gave his first public recital. In 1954, he debuted on Iraqi television. In 1956, he worked for the Institut de Musique of Baghdad. In 1957, he traveled to London, Paris, and Vienna, and in 1960 he left Iraq. He gave recitals in Berlin, Prague, Belgrade, Sofia, Riga, and Moscow. He established residence in Budapest, and there he met Zoltan Kodaly and prepared for a doctorate in music. In 1967, while living in Beirut, he became involved in teaching activities aimed at reviving Arab musical traditions, to counter the lassitude of contemporary performers and to prevent this music from degenerating. Thereafter he refused to perform as a supporter for singers, and prefered to perform his music as a soloist. Through the efforts of the Oriental musiologist Simon Jargy, Munir Bachir was persuaded to come to Geneva in 1971 to perform, also at the Palace of Versailles, the O.R.T.F. in Paris, the Holstebow festival in Denmark, and several other important recitals. In 1973, he performed in Sweden, Iraq, Canada, the United States, and Germany. At the end of 1973, he returned to Iraq and was named to the artistic council for the Minister of Information to revive the practice of traditional music. His life and work became of fundamental importance to the evolution of instrumental Arabic music and its rehabilitation. He continued to record frequently, and even made a recording with his son Omar Bachir. He died in 1997.
Munir Bachir here performs on an oud constructed by Muhammad Fadhil. It bears six courses, and instead of the usual arrangement, the single base string is in the highest position. It is tuned Do3-Re3-Sol3-Do4-Fa4-Fa2. The three soundholes of this oud are in elliptical outline, and the strings pass over the bridge and are tied to the heel. Like other students of Sharif Muhyi-Ad-Din Haydar Targan, Munir does not always use a plectrum, and often uses all four fingers of his right hand while playing.
The first recording, Meditations sur le maqam Chedd-Araban (22:30) is based upon a Turco-Arab maqam constituted of Hijaz-Hijaz. In the course of this composition he modulates through Hijaz-Kar-Kurdi, Rast on Fa, Nahawand on Fa, and Bayati on Do, with occasional returns to different themes in his unique style.
In the second recording, Meditations sur des Nagham-s Traditionnels d'Iraq 22:00 (Meditations upon traditional songs of Iraq), he develops a half-dozen improvisations. The first is Panjukah (Rast and Rast-Nahawand), then Mansuri & Na'il (the lower tetrachord of which represents Saba), then Awchar (Rast and Sikah), Mukhalef & Awj (Sikah-Hijaz-Rast), Dacht (Bayati and Busalik), and finally Lami (Kurdi-Kurdi).
Jamil Ghanim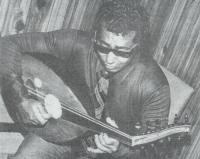 Jamil Othman Ghanim was born in Aden, Yemen, in 1941, to a cultivated family. His grandmother was a poet, and he was exposed to the poetry of Lutfi Ja'far Aman, and his maternal uncles Ahmad, Taha, and Khalil were accomplished on the 'ud. In 1960, he applied to the arts institute at Aden and joined their musical ensemble. He was later accepted by the Institut des Beaux Arts in Baghdad, where he was astonished by the accomplished musicianship of Jamil Bachir. He became one of the best students of Jamil Bachir and Salman Shukur. In 1968, he returned to Yemen and became a professor of the history of music at the Normal School level. He immersed himself in improving the public's taste for classical music, and worked with the Minister of Culture to safeguard ancient music. He was later invited to Germany by the musicologist Jurgend Elsener, where he acquainted Europeans with the 'ud through television and concert-hall performances. At the time he recorded this, he had been since 1971 the director of the Aden National Institute for Music, with occasional returns to Baghdad for the International Music Congress.
The 'ud Jamil Othman Ghanim uses here is by Ustad 'Ali of Baghdad, and is nearly identical to the 'ud used by Salman Shukur,with the bass string in the highest position, three round sound-holes, strings tied to the bridge, bridge glued to the face, tuning to Rast key-tone in Fa2 like Munir Bashir (Jamil Bachir used Rast in g, and Sharif Muhyi ad-Din, the teacher of Jamil and Munir Bachir and of Salman Shukur, used Rast in B flat or C).
These two compositions are based in traditional Arab maqamat, and they are unique, by Jamil Ghanim. Their structure is highly complex and so intricate that they cannot be fully described here:
Reveries sur le maqam Farahfaza 19:30 - This piece opens in a structure that shifts between 'Ajam-'Achiran, a major mode, and Nihawand, a minor mode that combines Busalik-Kurdi and a minor melodic descent. This pattern of major-neutral-minor shifts continues through Sultani-Nayruz, Sultani-Yegah, Rast-Chawrik, Rast-Suznak, Saba, Farahnuma, Athar-Kurdi, Lami, Nihawand, Farahnuma, Sultani-Yegah, Athar-Kurdi, Nihawand, Sultani-Yegah, 'Ajam-'Achiran, and comes pensively to rest in Nihawand.
Reveries sur le maqam Nihawand 19:20 - This piece opens in Nihawand-Jadid, again a Busalik minor to Busalik-Kurdi with a melodic minor descent, then develops through Nihawand-Kabir, Rast-Suznak, Rast-Nayruz, Saba, Kurdi, hijaz, Hijaz-Kar, Athar-Kurdi, Nihawand-Jadid again, then Nihawand-Kabir, Nikriz, Nihawand-Kabir, and through Nihawand-Jadid to a strong finale.
Omar Naqichbendi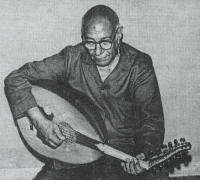 Very little is known about 'Omar Naqichbendi, and this was his only full-length recording, made when he was quite elderly. Although he was self-taught, and neither studied nor taught at a conservatory or academy, he was widely regarded as an absolute master of traditional Arab maqamat and modulation, and was frequently consulted by other leading artists who sought to perfect their art. Such was his status that he was often called the Prince of 'ud in Damascus, and the Patriarch of Syrian music. His art was the product of rigorous and precise self-education with the aim, as he modestly expressed himself, only to become a connoisseur himself. He was the premier soloist for Syrian television and performed often for t.v. His style is remarkable for sustaining the ancient musical tradition of Damascus, which had been for many centuries the center of Islamic artistic culture.
For this recording, he used a twelve-string six-course oud constructed by the Nahat workshop, and the main courses are tuned Sol2-La2-Re3-Sol3-Do4. At times, he used a very unusual left-hand technique of holding his palm downward over the neck, with the four fingers pointing downward to stop the strings. The six recordings here include:
Rast 6:50, which uses Rast-Rast in the ascent, and Busalik in the descent. The improvisation is based upon two songs "Ya tiri tiri" and "Ya mal al-Cham". These songs were published by the printer Abu Khalil El Kabbani, who made such pointed challenges to the "puritans" of Damascus that he created a scandal, and had to escape to exile in Egypt. 'Omar Naqichbendi presents his improvisations upon these melodies as a tribute to his courage.
Sikah-Huzam 5:30 (modulates through Sikah-Hijaz-Rast) The melody is based upon a women's dance.
Nahawand 8:00 (Nahawand-Hijaz-Kurdi). Improvisation upon "Al-Bint Chalabiya".
Saba-Husayni 7:10 (Bayati-Hijaz-Hijaz, or Saba transposed on La) Improvisation upon a raqset setti or nocturnal dance.
Sikah-'Iraq 6:10 (Sikah-Bayati-Rast)
Hijaz-Nawa 6:30 (Hijaz-Hijaz)
Salman Shukur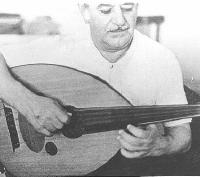 Salman Shukur was born in 1921 in Baghdad, Iraq. He studied oud under Sharif Muhyi-ad-Din Haydar Targan, and became Professor of oud and the head of the Oriental Music Department at the Institute founded by Sharif Muhyi ad-Din, and held that post for 30 years. He was also Artistic Advisor for the Iraqi Ministry of Information. He performed frequently for Iraqi radio and television, and performed in concert in China, Iran, Egypt, Germany, England, and the United States. He has performed publicly as recently as 1997. He made only one full-length recording, for Decca Headline, "Salman Shukur - oud", HEAD 16 PSI, recorded in Rosslyn Hill Chapel in London in 1976 by James Mallinson and Stanley Gooddall, notes by John Haywood, released in 1977, and a brief excerpt of his solo oud performance in Rast Iraq can be heard on the Tangent Record series Music In The World Of Islam: Lutes (re-issued by Topic Records). The Decca recording is presented here.
For this recording, Salman Shukur used an oud built by Ustad 'Ali. It features six courses, and the lowest single string is in the highest position. It has a traditional glued-to-the-face bridge, to which the strings are tied. It is tuned d-g-a-d'-g'-A. Like many students of Sharif Muhyi ad-Din, Salman Shukur uses a plectrum some of the time, and all four fingers of his right hand some of the time, when playing.
This recording presents four compositions by Salman Shukur that are based in traditional maqamat of Arab-Turcic music:
Improvisations on a theme by Hajji 'Abd al-Ghaffar from a takiya (Sufi lodge) in Tikrit (prelude, taqsim, and sama'i in Rast) 16:30
A ghazal or romantic piece, composed in 1975, in the equivalent of D-minor with frequent shifts in mood, 8:10
Mahrajan fi Baghdad / Festival in Baghdad, premiered at the Durham Festival of Oriental Music in 1976. The piece is conceived with an opening theme, repeated later, that is based on the fajr adhan or dawn call to prayer. This piece and the one following it were originally written as a quintet for oud and various instruments. 16:30
Huriyyat al-Jabal / Mountain Fairy, composed 1965, originally based on an Iraqi folk song and developed into an extended suite for oud and string quartet, opening in the equivalent of G-major. 16:30